Gain a Competitive Advantage
Certification Benefits
Official ProFirst Certified sign available for you to display in your customer reception area
Official ProFirst Certified logo for you to display on your website and marketing materials
Special press release issued to your local media outlets announcing your new official ProFirst Certification
Listing on the online shop locator, directing consumers and insurers to your collision repair facility
Ongoing business development process and feedback to ensure your shop achieves certification, and continues to have what it takes to properly repair the new generation of Honda and Acura vehicles
Need more information?
Help is only a phone call away
289-309-5200
PROFIRST COLLISION REPAIR FACILITY PROGRAM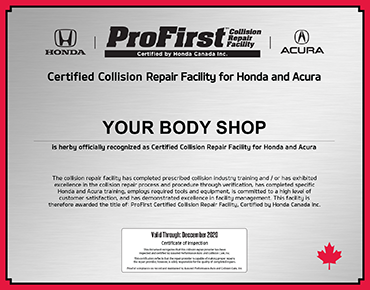 Welcome to the ProFirst Certified information page. ProFirst Certified is Honda Canada's collision facility certification program open to all Canadian collision facilities including dealer-owned, independent and MSO facilities.
Mission Statement
The purpose of ProFirst is to promote the correct, complete and safe repair of Honda and Acura vehicles and to provide support to those collision repair businesses that have demonstrated a commitment to a high level of customer care and satisfaction.
The ProFirst Certified Advantage
Being ProFirst Certified increases your facility's professionalism which promotes customer confidence and loyalty. It shows you are committed to a complete and correct repair and committed to your customer's subsequent safety.
When potential customers come to your facility for an estimate, you will have the advantage of being a ProFirst Certified facility – certified by Honda Canada. You can let customers know that, as a ProFirst Certified facility, you have the tools, equipment, training, knowledge, and other resources to do the job right. This can help turn more estimates into paying jobs.
Why Certified?
Honda is committed to providing safety for everyone, in the way Honda and Acura vehicles are built, and in the way they are repaired after a collision. Increasing fuel efficiency, decreasing CO2 emissions, and meeting collision safety targets has demanded lighter and stronger vehicle bodies and new tools, equipment and technology to properly repair them. Couple this with the increasing application of on-board safety and collision avoidance technology and collision repair is no longer a simple job. The collision repair industry and repair technology is evolving with increasing speed and intensity.
Today, it takes a highly-qualified collision facility to properly repair a Honda or Acura vehicle – one with training, skill, the proper tools and equipment and the latest repair information. It takes a facility dedicated to their craft – a ProFirst Certified facility. Is your facility ready to meet the evolution of collision repair head-on? Is your facility ready to take the next step – to ProFirst Certified?
RESOURCES FOR REPAIRERS
The ProFirst Collision Repair Facility program is looking for dealer and independently owned collision repair facilities focused on providing a superior repair experience to ensure the value and safety of our owners' vehicle is maintained. The program will identify and certify collision repair facilities with the proper tools, equipment, training and facilities needed to provide safe repairs for Honda and Acura customers, and will ensure there is a ProFirst Collision Repair Facility in every market across Canada.
Honda and Acura Dealers: Please login below for additional program information and participation details.
PROFIRST COLLISION REPAIR FACILITY PROGRAM
How to Participate
New ProFirst and Certified Collision Care Enrollments
REVIEW - Visit the Certification Requirements tab on this website and review the ProFirst Certification requirements and resources.
SPONSORSHIP - Contact your Honda or Acura Dealer to request sponsorship. Dealer visits www.GetProFirstCertified.ca (Honda and Acura Dealer Tab) to submit your shop sponsorship
APPLY– Click on the APPLY NOW button to apply to the Certified Collision Care program. The Certified Collision Care team will contact you to assist with enrollment and collect payment of enrollment fee, provided facility qualifies. All shops must sign the updated Honda Application and Terms & Conditions Document.
ONLINE ASSESSMENT - Complete a Business Profile & Capabilities Assessment online
ONSITE INSPECTION - Once all compliance is provided, an onsite inspection-audit will be completed
APPROVAL- Gain access to marketing tools and listing on online shop locator to maximize your ROI and overall business value
Additional Notes:
Certified Collision Care reserves the right to refuse products or services to any business for any reason without notice.
Honda Canada approval is required for sponsorship. Honda Canada reserves the right to accept or reject all sponsorship requests.
Facilities that continue to qualify and are certified by Certified Collision Care will remain on the Honda Canada body repair facility locator site.
Certified Collision Care will contact all existing ProFirst Repair Facilities to assist with individual shop needs.