Gain a Competitive Advantage
Certification Benefits
Official ProFirst Certified sign available for you to display in your customer reception area
Official ProFirst Certified logo for you to display on your website and marketing materials
Special press release issued to your local media outlets announcing your new official ProFirst Certification
Listing on the online shop locator, directing consumers and insurers to your collision repair facility
Ongoing business development process and feedback to ensure your shop achieves certification, and continues to have what it takes to properly repair the new generation of Honda and Acura vehicles
Need more information?
Help is only a phone call away
289-309-5200
PROFIRST COLLISION REPAIR FACILITY PROGRAM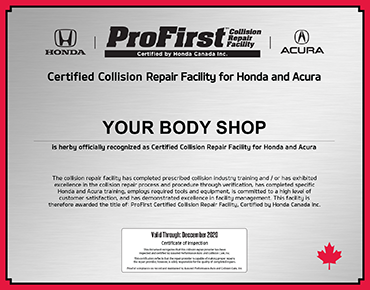 Welcome to the ProFirst Certified information page. ProFirst Certified is Honda Canada's collision facility certification program open to all Canadian collision facilities including dealer-owned, independent and MSO facilities.
Mission Statement
The purpose of ProFirst is to promote the correct, complete and safe repair of Honda and Acura vehicles and to provide support to those collision repair businesses that have demonstrated a commitment to a high level of customer care and satisfaction.
The ProFirst Certified Advantage
Being ProFirst Certified increases your facility's professionalism which promotes customer confidence and loyalty. It shows you are committed to a complete and correct repair and committed to your customer's subsequent safety.
When potential customers come to your facility for an estimate, you will have the advantage of being a ProFirst Certified facility – certified by Honda Canada. You can let customers know that, as a ProFirst Certified facility, you have the tools, equipment, training, knowledge, and other resources to do the job right. This can help turn more estimates into paying jobs.